R-Pop -Up 100 x 250 cm
Product ID: 028909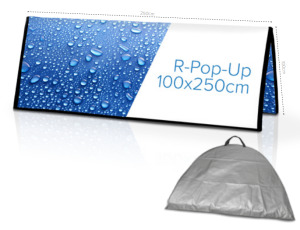 Product Description
R-Pop -Up 100 x 250 cm made of Polymat, The Pop-Ups are robust displays made up of a metal frame and a polyester screen, You don't have to assemble these displays, they do it for you. Just grab the two rings with both hands, pull them apart and the display opens automatically. It's ready to use in a matter of seconds. Pressing the Velcro strip on both sides ensures that the Pop-up stays stable. The displays can also be reinforced using pegs or a weight that is fitted to the Velcro. • self-unfolding displays; • installation in a matter of seconds; • optimum communication solution for all kinds of (sporting) events; • suitable for both indoor and outdoor use; • extremely light and compact; • made from durable materials.
Call us for the best price, or fill in the details above and we will email you your quote.
All prices include a one colour one position print (or better) unless otherwise stated and are exclusive of VAT, carriage and origination charges.